Rocky Mountaineer
Truly Moving Train Journeys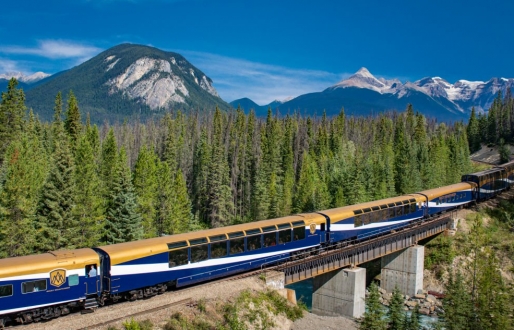 The majesty of the Rockies meets the Comfort of Luxury Train Travel
Rocky Mountaineer offers luxury train journeys through Western Canada and the American Southwest. Our world-renowned train travels by daylight and is the best way to experience some of the most spectacular scenery North America has to offer.

SilverLeaf: See the Rocky Mountains in style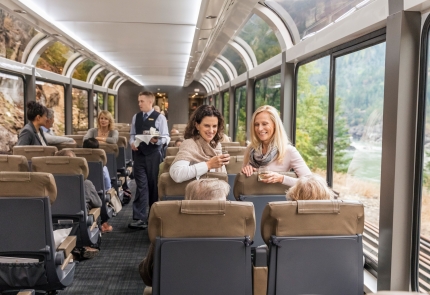 INCREDIBLE VIEWS. IMPECCABLE SERVICE.
Our SilverLeaf service level gives you everything you need and more to experience the majesty of the Rocky Mountains in luxury: panoramic views, delicious meals and beverages brought right to your seat, friendly Hosts and complimentary baggage transfers. And miles and miles of memories.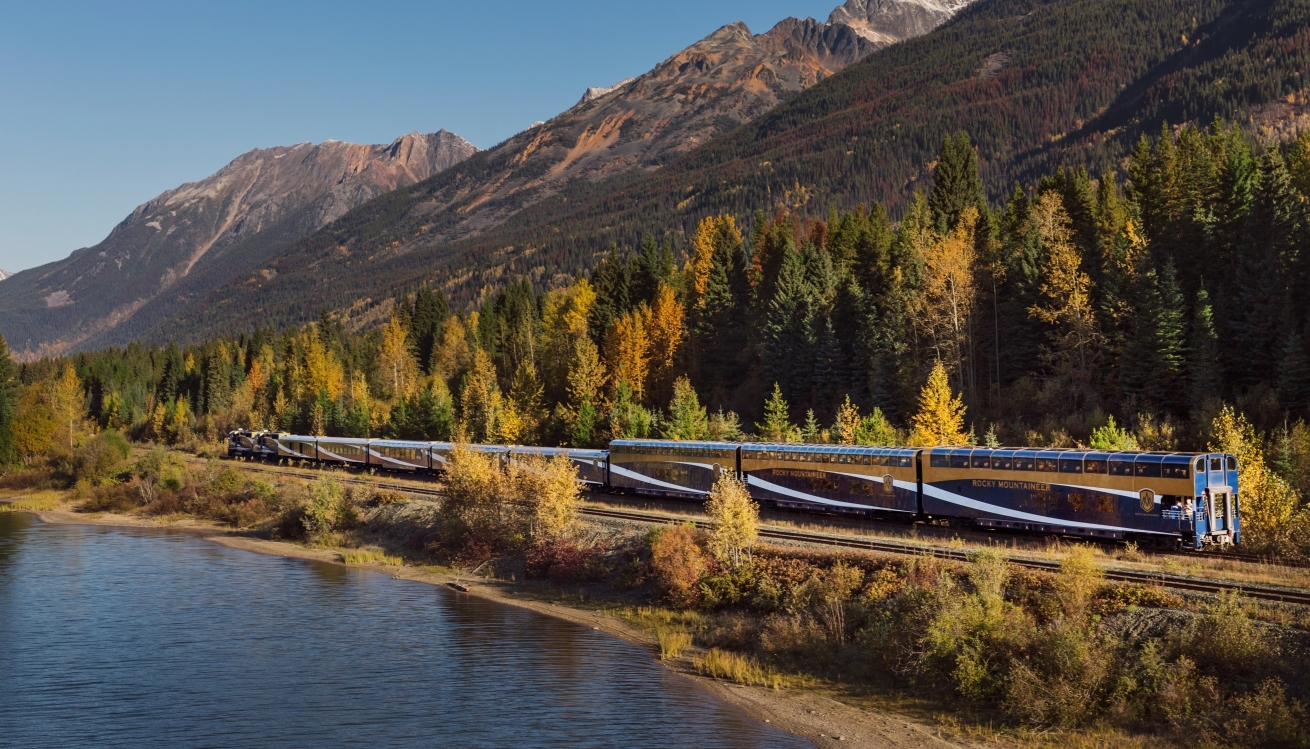 See it All
Our custom-designed glass-dome coaches give you a truly panoramic view of your surroundings. The oversized windows give you a clean, crisp view and make photography a snap. So you can take it all in from the comfort of your reclining chair. Or you can get a little bit closer in our outdoor viewing area.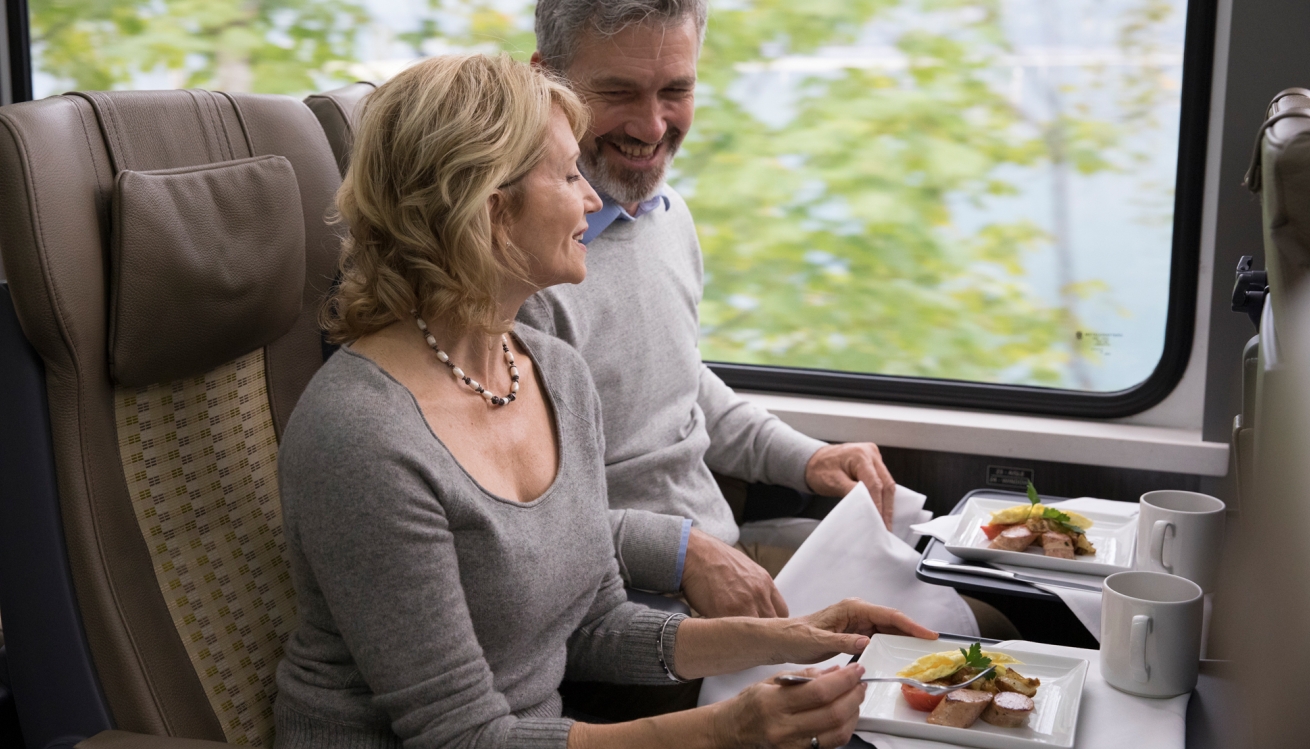 A Feast for Your Senses
Enjoy gourmet meals served in the comfort of your seat. It might even take your eyes away from the window – at least for a little while.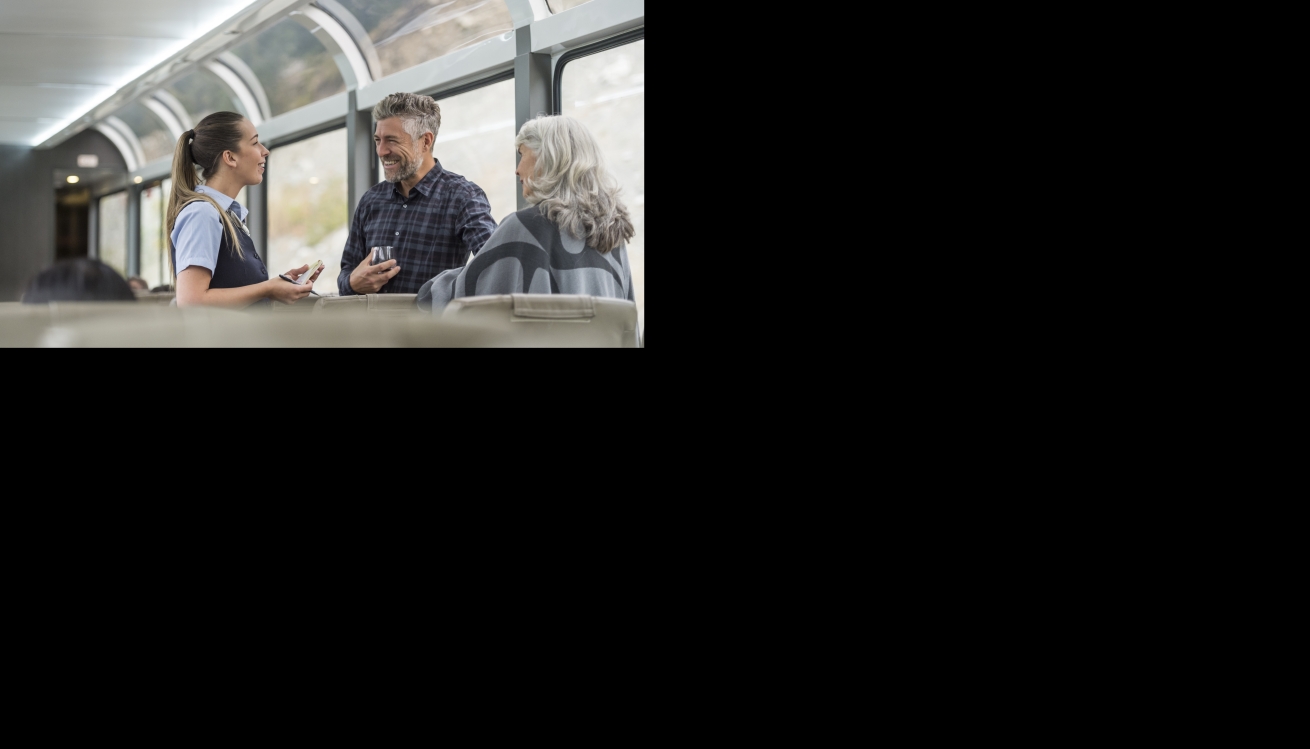 Smiles for Miles
Our friendly team of Hosts and culinary team members will serve your meals, entertain you with stories, take care of those special requests, and ensure your comfort, so that you can focus on the journey ahead.
GoldLeaf: The Height of Luxury
FIVE-STAR COMFORT MEETS FIVE-STAR VIEWS
With our GoldLeaf Service, indulge your senses with gourmet meals prepared by Executive Chefs, andexpansive views through the panoramic windows of a bi-level glass dome coach to the Canadian Rockies.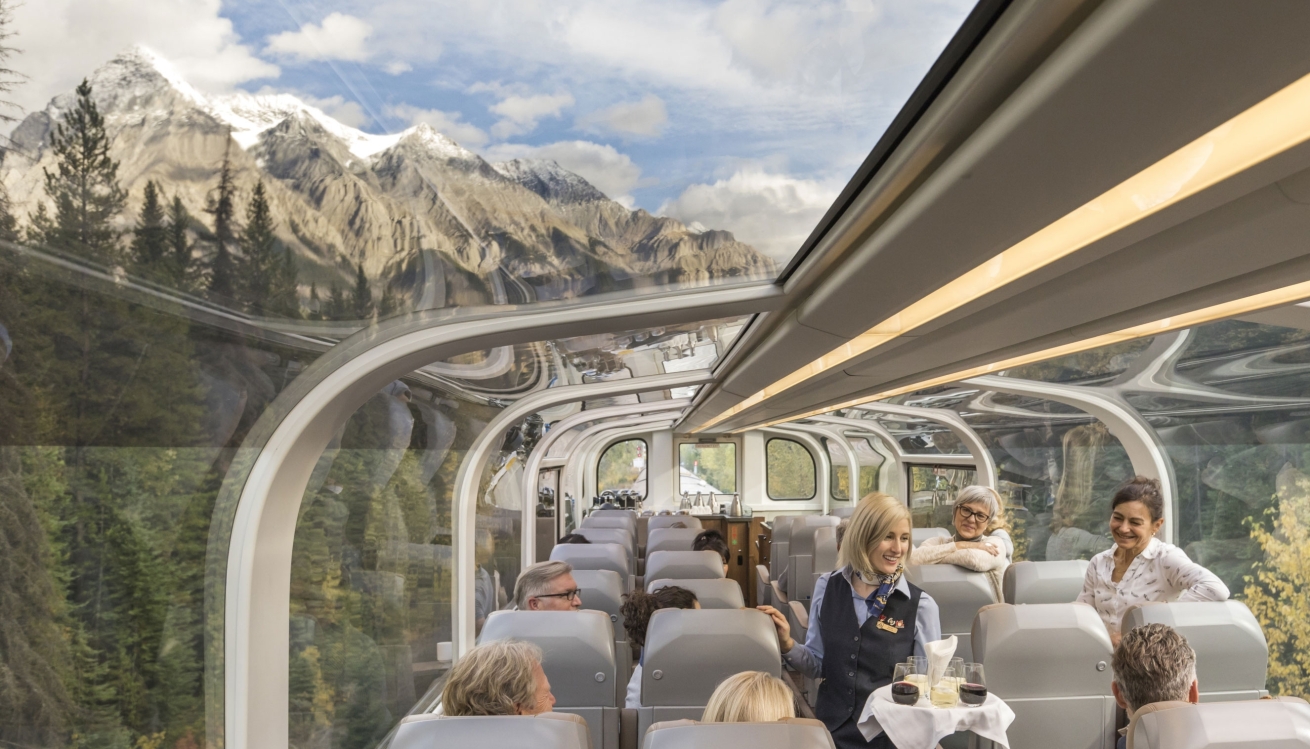 Room. With a View
Stretch your legs and your viewing angles in our bi-level glass-dome coaches. Sink into your spacious seat on the upper level and enjoy meals in the lower-level dining area.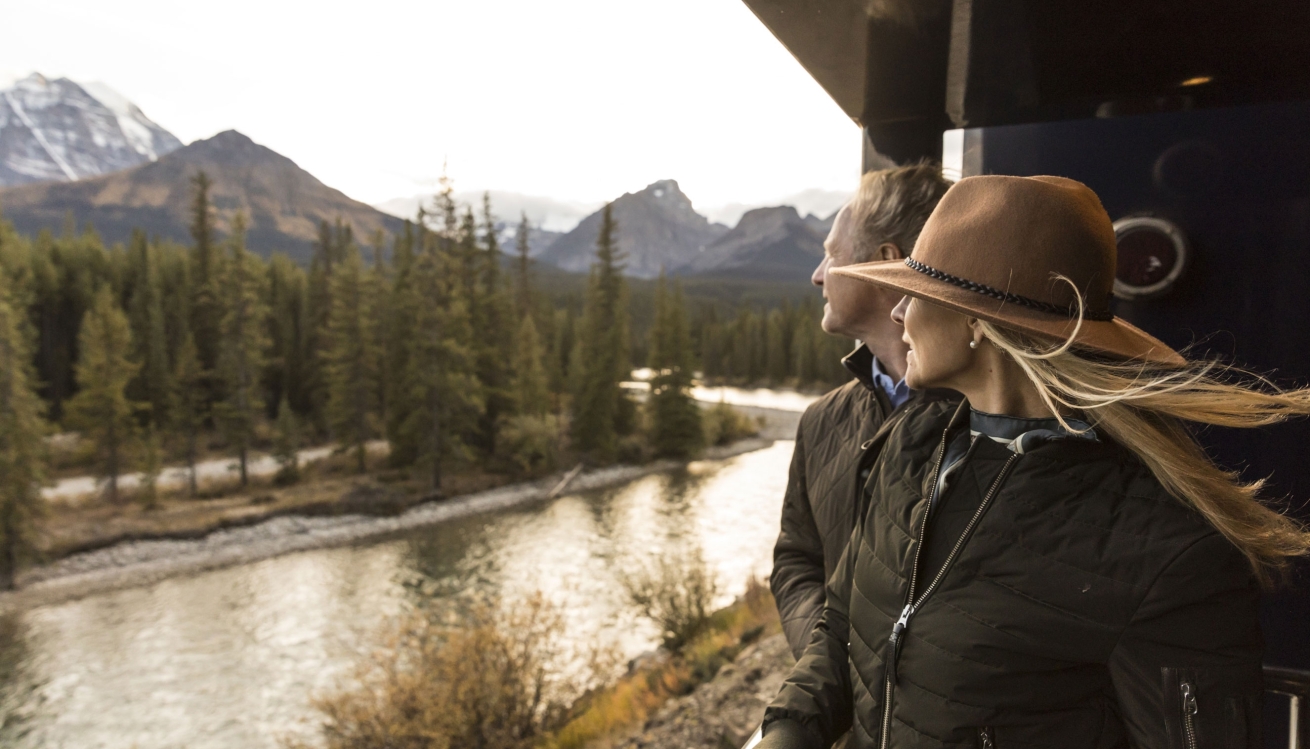 Outdoor Viewing Platform
Step out onto your exclusive outdoor viewing platform to get closer to the action.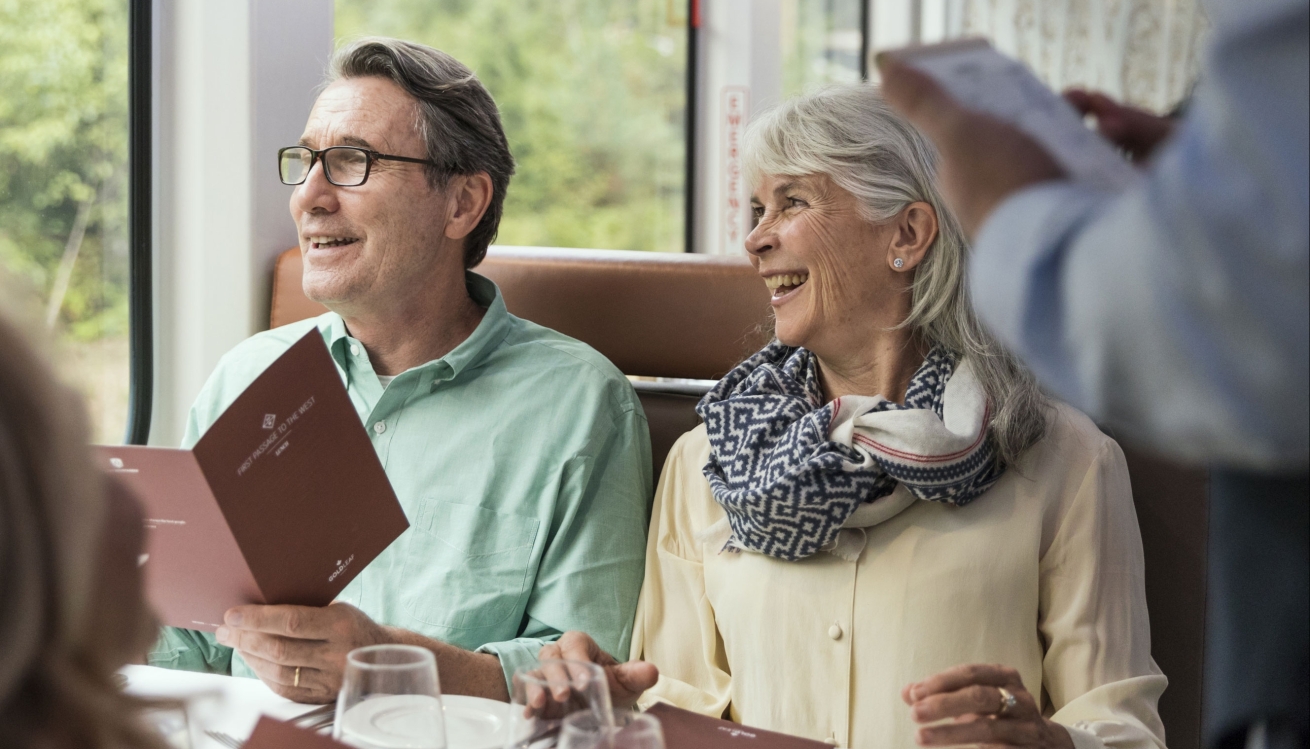 You'll Taste the Difference
Savour every second as you enjoy elegantly plated meals prepared with local ingredients from the comfort of a dedicated dining room – all the while, sprawling views of the Rocky Mountains will be unfolding right outside your window.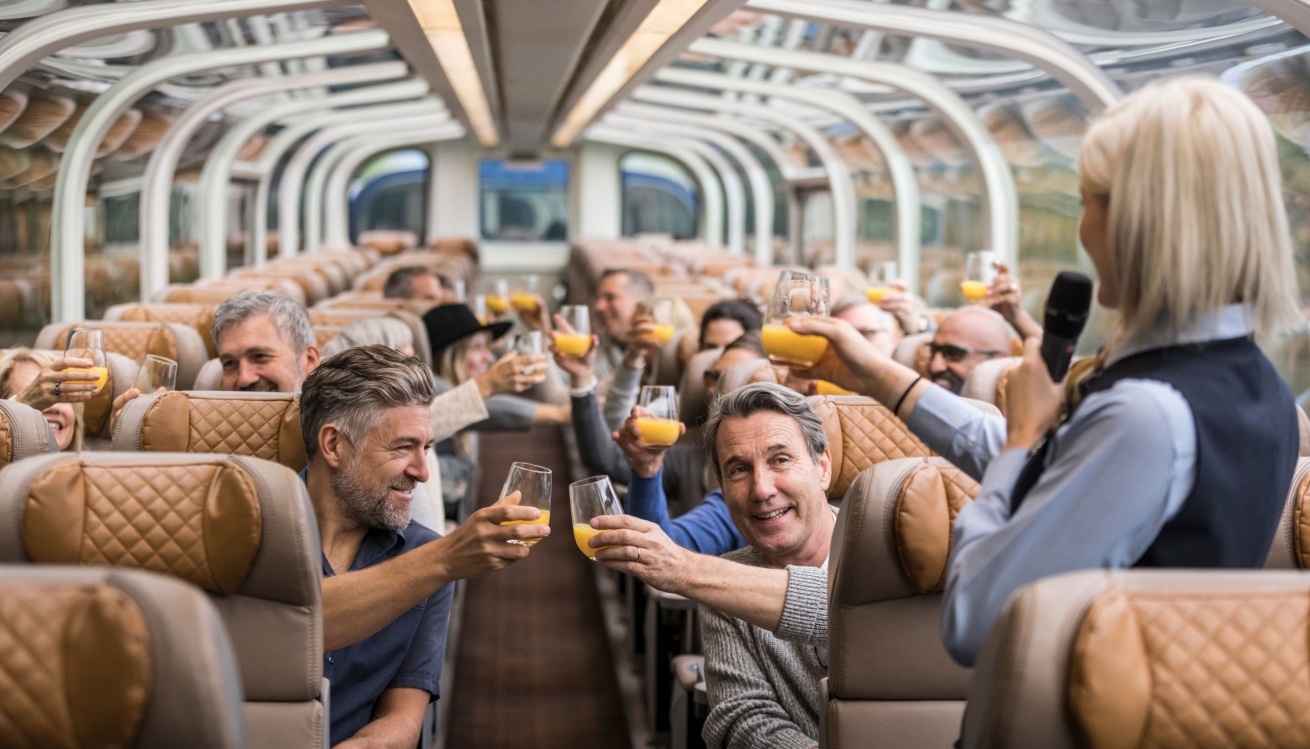 Award-Winning Service
Sit back and enjoy the scenery as our Hosts attend to your every need. From entertaining you with stories about passing landmarks to topping up your glass of wine and calling out wildlife sightings, you can rest assured that everything will be taken care of.
Contact Your AAA Travel Agent - Rail Travel Expert Today for Current Offers and Package Information

Railbookers
Railbookers offers an ever-expanding portfolio of holidays to inspiring, sought-after destinations across Europe, Canada, the USA, and beyond.
Everything is Customizable
---
Discover the joy of the journey, pass spectacular scenery and enjoy a hassle-free vacation. Choose from one of our expertly planned, independent holidays, or let one of our knowledgeable Rail Experts build your own customized trip. All you must do is sit back, relax, and enjoy the journey.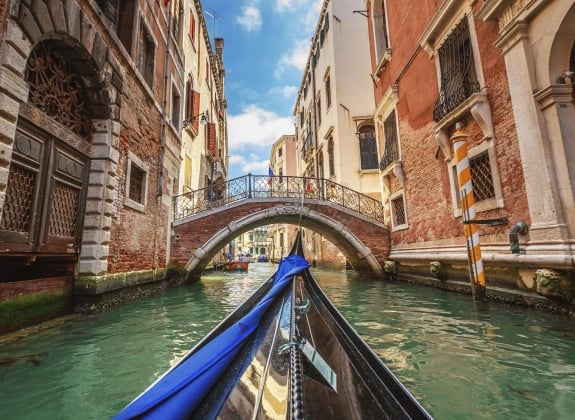 You Decide on the Destinations
Select the type of vacation you're looking for, from exciting multi-city escapes to epic cross-continent adventures – and let Railbookers expertly recommend journeys for you. Or be inspired by our carefully chosen vacation Spotlight selections, picked to highlight our customers' favorite adventures and our most spectacular destinations.

You Decide on the Travel Time
Any destination, any date, for any length of time… simply put, if the train goes there, so do we. With Railbookers, you can book your trip at any time – even if tickets aren't on sale to the public yet. We can tailor-make any of our vacations to suit your exact requirements.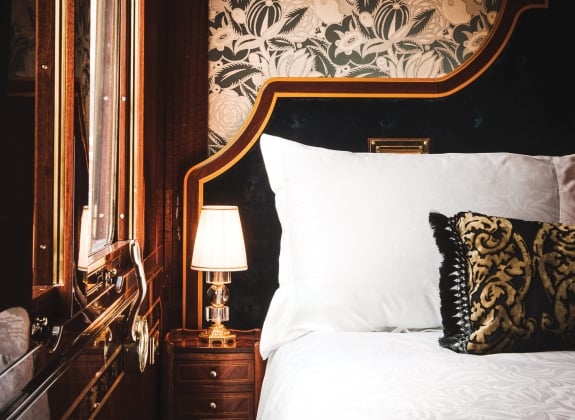 You Decide on the Type of Accommodations
We want to make sure you get exactly what you want, whether it's a boutique hotel, a special kind of restaurant, an exciting museum tour, or a once-in-a-lifetime, off-the-beaten-path experience. Quite simply, we'll help you carefully design an authentic train vacation that works with your budget to maximize your free time and take you off the traditional tourist track.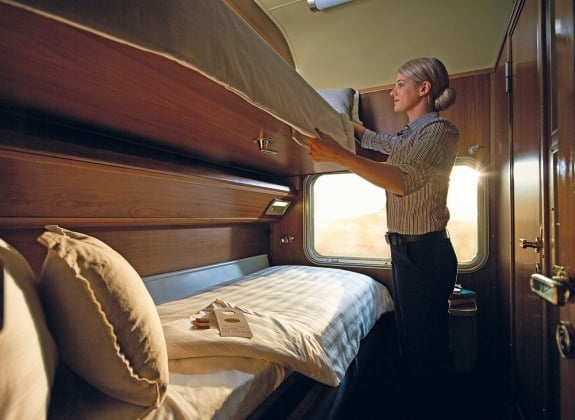 You Decide on the level you Want and Length of Time
You decide on the destinations, travel time, type of accommodations, level you want, length of time, and your special occasion. Everything is customizable.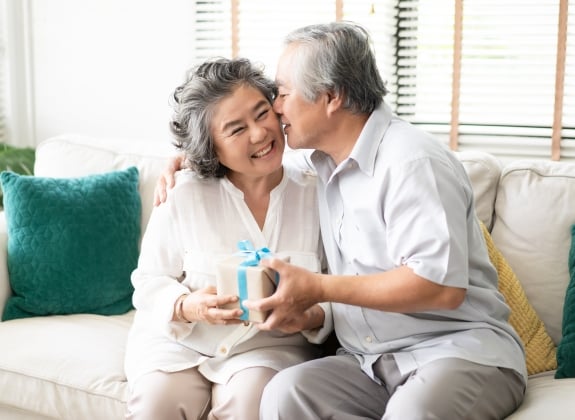 You Decide on the Special Occasion
Celebrate your special occasion with Railbookers, from anniversaries to birthdays there is no better treat than seeing the world.

Contact Your AAA Travel Agent - Rail Travel Expert for Current Offers and Package Options!
Amtrak Vacations
Getting there is half the fun! With more ways to relax on your journey – including plenty of legroom, spectacular views, and unique dining experiences – your state of mind will transform during an Amtrak Vacation, just like the land you're passing through. Read on to discover just some of the many benefits of choosing to travel with Amtrak Vacations.

Most Popular Destinations
Glacier National Park, Grand Canyon National Park, Yellowstone National Park, Yosemite National Park, New Orleans, New York City, Niagara Falls (USA), Chicago, Seattle, Washington, D.C., San Francisco, Boston and Many More!
Freedom and Flexibility
Customize your rail vacation by choosing your departure day, adding sleeping accommodations on the train, extra nights in your destination, tours and activities, meals and dining, and more.

Hassle-Free
Sit back, relax and let our Rail Vacation Specialists do all the planning for you, including scheduling train routing and ticketing, hotel accommodations, and tours and activities in your destinations up to 24 months in advance.

City to City Service
Amtrak Vacations brings you right to the heart of your destination, whether it's a top national park or major city, so you can maximize your time.

Something for Everyone
Whether you want to see the national parks, travel roundtrip to your favorite city, or travel one way before or after a cruise, we can create the perfect rail itinerary for you.

Roundtrip Vacations
Make any journey roundtrip.
Begin and end your train vacation at any of the 500+ Amtrak stations across the United States, including the one closest to your hometown! Use the filters below to choose your preferred departure station. If you don't see the one you're looking for, contact us today and our rail vacation experts will help you plan your roundtrip vacation from the station nearest you.
Rail Experiences
Enjoy an experience unlike any other
With over 500 destinations in 46 states and more than 30 train routes across the country—many of them legendary and some in Canada—there are endless opportunities for you to explore and enjoy life onboard.
Cross Country Train Trips
Journey cross country onboard Amtrak
Cross Country train trips onboard a long-distance Amtrak train is truly one of the greatest travel experiences in the world. Onboard, take in the breathtaking passing landscapes en route to the most sought after cities, national parks, and landmarks.
Rail Getaways
Treat yourself to the perfect escape.
Our Rail Getaways are packed with excitement, memory-making experiences, and discovery. Explore the best cities, sightseeing attractions, treasured national parks, and scenery from the train.
Alaska Rail and Sail
Combine the best of land and sea travel.
Ride the rails and take the scenic route to your departure port city. Spend time exploring before embarking on your cruise. Along the journey dock in bucket list destinations where no two days are ever alike.
Most Scenic Journeys
Take in the beauty of America on these scenic rail journeys.
Relax onboard Amtrak as you travel through some of the most breathtaking landscapes to picturesque destinations. These handpicked journeys are sure to impress from day 1 till you return home!
National Parks
Explore the outdoors.
These national parks make up the wildest, most beautiful landscapes in North America. You could spend a lifetime exploring these treasured sites and always discover something awe-inspiring. Which national park will you choose to visit next?
Multiple National Parks
Visit multiple national parks in one, wonderful vacation.
Visit some of the top National Parks in the US for an unforgettable, bucket list experience to the most scenic and serene places. Gaze at Old Faithful Geyser erupting, travel along Going-to-the-sun Road on a vintage open-top motorcoach, witness the beauty of the Grand Canyon, one of the seven Natural Wonders of the World. Having trouble picking which national park to visit? No worries, you can visit multiple parks all in one epic rail vacation!
Famous Routes
Explore some of the most famous train routes throughout America!
Select a route to see what vacations are available along it and what popular destinations that route can take you to.


Contact Your AAA Travel Agent - Rail Travel Expert for Current Offers and Package Options!