AmaWaterways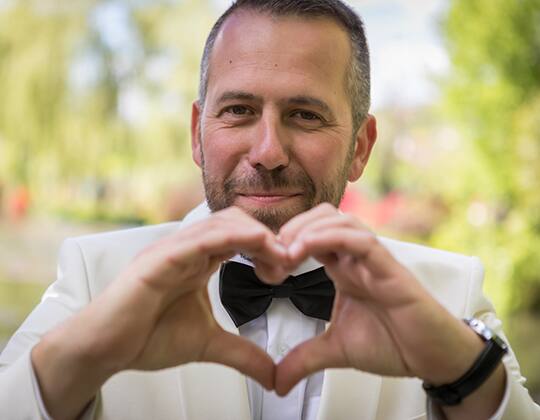 Why River Cruise with AmaWaterways THE HEART OF THE RIVER™
With eighteen years of experience on the world's rivers, our family-owned and operated company has remained focused on what we do best: providing our guests with innovative and unforgettable travel experiences. Our visionary leaders were the pioneers of modern luxury river cruising and have received numerous prestigious awards and accolades. However, we are most fulfilled by the positive feedback we receive from our guests, whom we have always considered a part of our family. Join us, stay awhile and discover Europe, Asia or Africa with us – one river at a time.
UNPACK ONCE: A SEAMLESS EXPERIENCE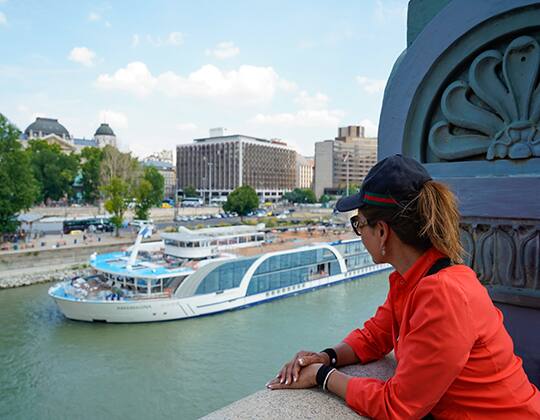 Step aboard and unpack once, traveling between grand capitals and charming villages alike, without the need for multiple hotels or forms of transportation. On one of our unforgettable river cruises, every day is a "see" day rather than a "sea" day because we sail through the very heart of each destination where castles were built and kings and queens were crowned. Your ship docks in close proximity to city centers, and with our quick and easy embarkation and disembarkation, you can step right off the ship and explore.
THE LUXURY OF SPACE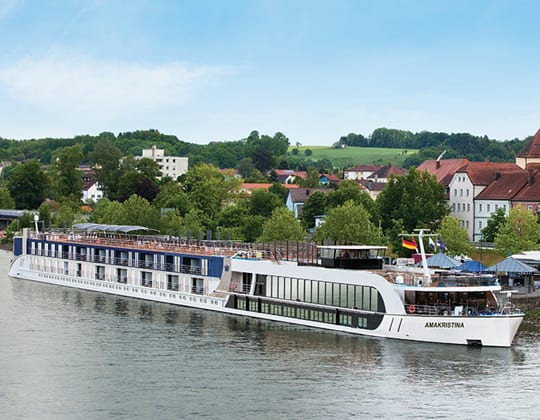 Our intimate, contemporary ships offer the luxury of personal space yet accommodate an average of approximately 156 guests*, less than on many traditional river cruise ships. Spacious and uncrowded, our award-winning fleet offers elegantly-appointed staterooms and suites with such welcoming amenities as our signature view-enhancing twin balconies. In 2019, our innovative AmaMagna was recognized by TIME magazine as one of the World's Greatest Places, offering enhanced personal space with more than 50% luxury suite accommodations as well as four unique dining venues, a chic onboard cinema and an expansive Zen Wellness Studio. In 2021, we look forward to welcoming two new ships in Europe, AmaSiena and AmaLucia, as well as the stunning newly designed AmaDahlia, which sets sail on Egypt's Nile River.
*based on current protocols, European river ships may be cruising with less than 100 guests
INNOVATION AND SUSTAINABILITY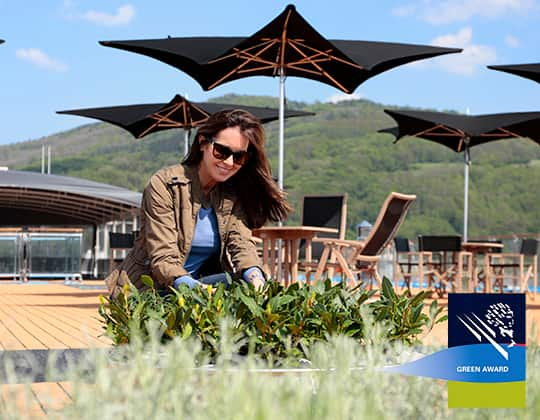 A leader in the industry, we continuously innovate to enhance the guest experience. In addition to our twin-balcony staterooms, we were the first river cruise line to offer a fleet of complimentary bikes, a fleetwide wellness program and The Chef's Table specialty restaurant – all of which are included in the cruise fare. Innovating with the environment in mind is also extremely important to us. In fact, 18 of our ships in Europe have earned the prestigious Green Award certification for their industry-leading safety, quality and environmental performance – including our most innovative ship to date, the AmaMagna.
DOUBLE YOUR LEISURE TIME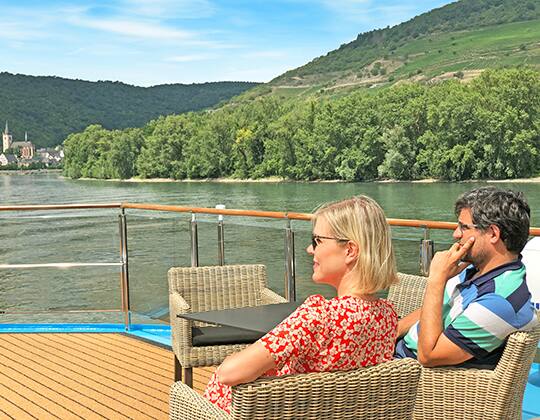 Your ship is a means of luxury transportation from destination to destination. The slower pace of river cruising means you have more free time in port and can step right off into the heart of the city and explore. When you're ready to rejoin the ship, take a dip in the sun-deck pool or whirlpool, participate in one of our wellness activities, relax with a soothing massage or simply watch the scenery go by with a glass of wine in hand – the choice is yours.
UNPARALLELED PERSONALIZED SERVICE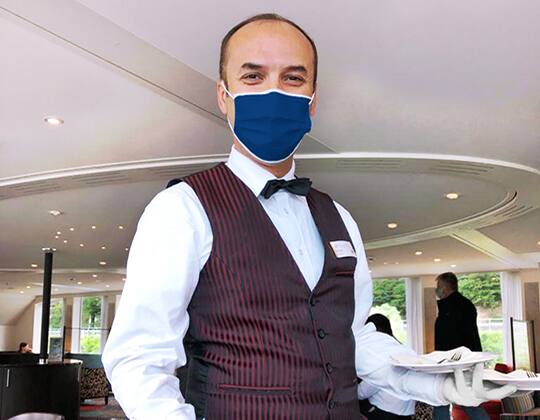 You'll be warmly welcomed on board by AmaWaterways' professionally trained crew, who always go above and beyond so you have a memorable experience. From greeting you by name to remembering your unique dietary preferences, our crew is more than just highly trained, they "sparkle." They are taking every recommended preventive measure into account on board as well as intensifying our normal very high standards of hygiene – because your health and safety are our top priority.
EXTRAORDINARY CRUISE MANAGERS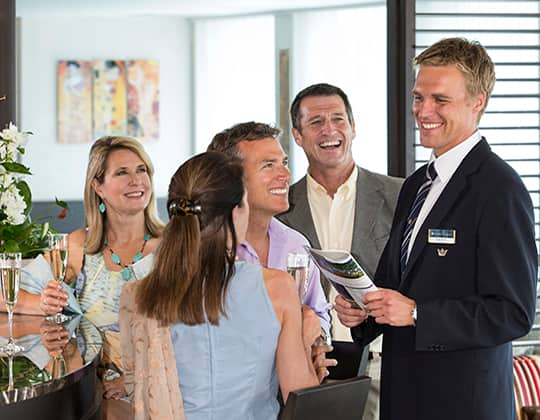 AmaWaterways' extraordinarily friendly and knowledgeable Cruise Managers are the best in the industry, destination experts with extensive experience in providing exceptional levels of personalized service. Warm-hearted, genuine and knowledgeable, they are there for you every step of the way, throughout your entire journey, including during our optional land extensions before and after your sailing – unique to AmaWaterways.
A VARIETY OF INCLUDED EXCURSIONS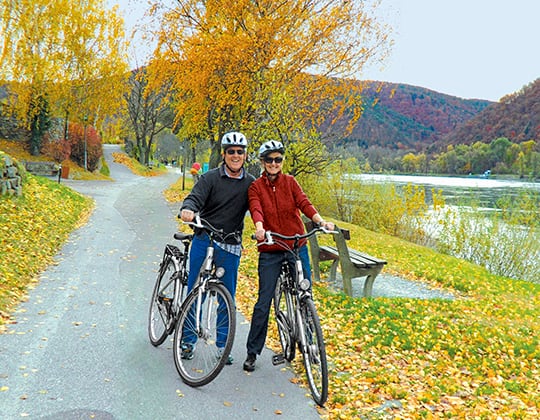 AmaWaterways has curated a diverse menu of shore excursions, with a variety of choices each day. Walking tours for gentle, regular and active guests as well as guided hikes and bike rides are operated in small groups of just 10-15 guests. We also offer immersive culinary-themed Special Interest Tours such as cooking demonstrations and tastings. As AmaWaterways often docks just steps from the heart of the city, you may also explore many destinations on your own on foot or by bike.
ENHANCE YOUR BEST SELF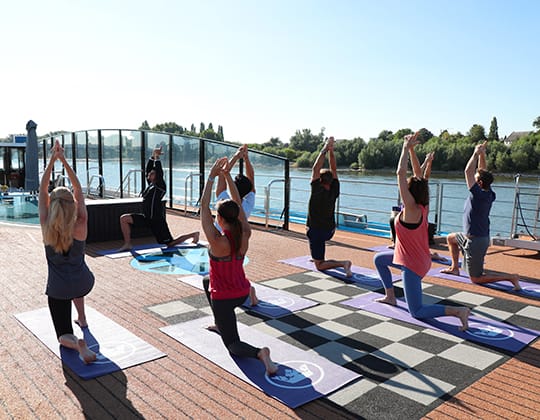 "As a passionate advocate of living a healthy lifestyle, I am always looking for new opportunities to ensure our guests can extend their own healthy lifestyles while vacationing with AmaWaterways – whether it's through active hiking and biking adventures, healthy locally-sourced cuisine or our popular wellness activities available fleetwide." – Kristin Karst, Co-Founder and Executive Vice President
AmaWaterways was the first river cruise line to offer a dedicated Wellness Host on board leading complimentary small-group fitness classes. For a gentler approach to wellness, we invite you to take a dip in the sun-deck pool or whirlpool or indulge in a spa treatment. Healthy cuisine prepared with fresh seasonal ingredients is always available as are vegetarian, gluten-free and low-sodium choices.
AWARD-WINNING INCLUDED DINING EXPERIENCES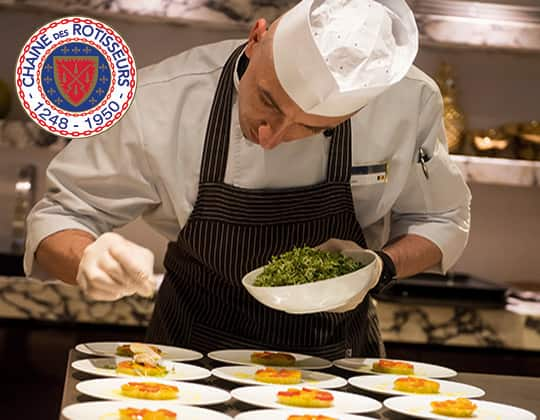 As a member of La Chaîne des Rôtisseurs, AmaWaterways prepares exquisite, regionally-inspired cuisine at every meal and paired with complimentary hand-selected wines with every lunch and dinner. All meals are included in your river cruise fare – at both the Main Restaurant and at The Chef's Table specialty restaurant where a delicious multi-course menu awaits. AmaMagna also offers our new Al Fresco Restaurant and Jimmy's Wine Bar & Restaurant for a total of four unique dining experiences. No matter where you dine, our crew takes great care to personalize your dining experience.
STAY CONNECTED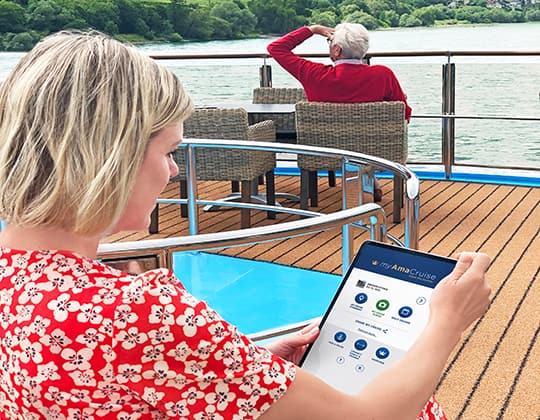 Whether you wish to keep in close contact with loved ones back home, stay in touch with the office, keep abreast of the latest news or all three, we provide high-quality complimentary Wi-Fi on board throughout our fleet as well as convenient in-stateroom computers. In addition, our easy-to-use downloadable my AmaCruise app allows you view and share an interactive map that follows your river cruise itinerary, share photos with friends and family, learn about each port of call, find available excursions and more.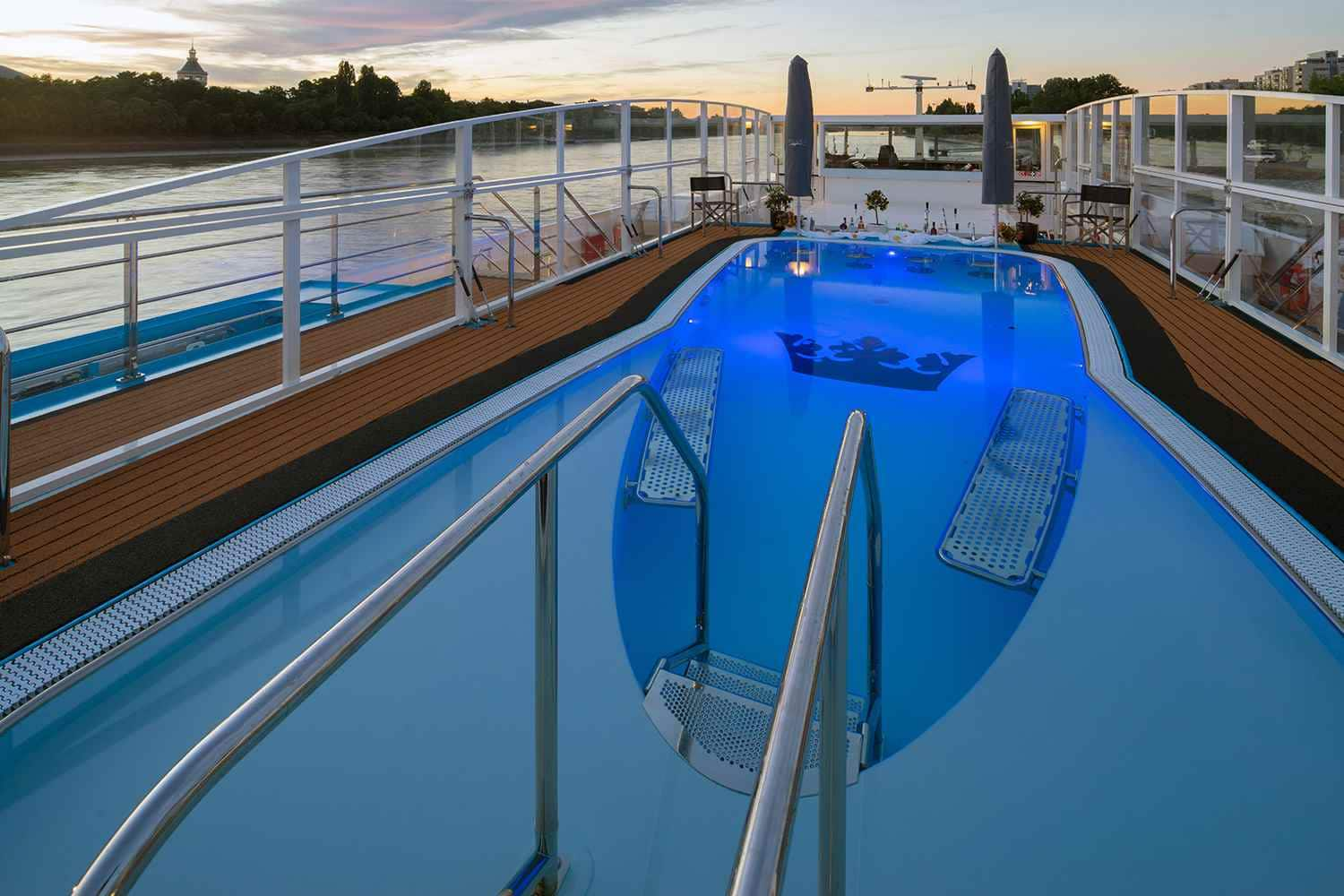 _______________________________________________


Viking River Cruises
The Thinking Person's Cruise®
Created for curious, experienced travelers.
On Board
Every detail on board a Viking ship is designed to enrich and enhance your travel experience, helping you fully immerse yourself in the rich cultures you are visiting. From our thoughtfully curated Library and the insights of our guest lecturers to regional cuisine and vintages from your destinations, Viking helps you connect to your destination in every possible way.
On Shore
The Viking Way® of exploration takes you deeper, offering behind-the-scenes insights and opportunities. While we include the expected and iconic, such as visits to renowned museums and notable landmarks, we also work hard to offer Local Life, Working World and optional Privileged Access® experiences in places otherwise difficult to visit.
The Small Ship Experts
Viking takes you closer to your destination with large, expansive windows,
and the ability to dock in the heart of small towns.
Viking Longships
Our award-winning Viking Longships® showcase innovative engineering, streamlined Scandinavian design and understated elegance. Thoughtfully engineered to get you closer to your destination, they provide unprecedented levels of comfort, including spacious staterooms with full-size verandas, the largest suites on Europe's rivers and the most al fresco dining.
Where Longships Sail
Rhine, Danube, Main, Elbe rivers & more
Serene Scandinavian Spaces
Elegant, light-filled ships thoughtfully designed to connect you to your destination.
Viking Lounge
Boasting floor-to-ceiling windows, the Viking Lounge is peaceful, serene and casual—enjoy the sunset with a cocktail and watch the scenery pass by as you compare notes about the day's discoveries with new friends.
Aquavit Terrace
Located at the bow of the ship, the Aquavit Terrace is a casual outdoor space where your destination is your dining room. Serving both breakfast and lunch, it provides the most al fresco dining on Europe's rivers.
The Restaurant
Enjoy a multicourse meal featuring regional cuisine and always available classics in our elegant Restaurant, an upscale dining venue with panoramic windows with ever-changing views.
The Library
Tucked in a quiet corner, our onboard Library offers a curated selection of titles. Choose a book and settle in for a good read that is sure to inform and inspire you during your journey.
Sun Deck
On top of the ship, relax on the Sun Deck while you take in 360° views. Exercise en plein air on our walking track. And enjoy the fragrances of our onboard herb garden, harvested by our culinary staff and infused in our authentic regional dishes.
Unparalleled Staterooms & Suites
The Viking patented design allows for more variety than other ships.
Thinking Outside the Box
With our exclusive patented corridor configuration—a distinctive feature of our Viking Longships—we are able to offer a variety of stateroom choices, from the deluxe comfort of our spacious Veranda and French Balcony Staterooms to our Veranda and Explorer Suites.
Viking Suite Collection
While other cruise lines call one large room a "suite," Viking Longships offer river cruising's first-ever true suites, each with two full-size rooms. These spaces are among the largest suites on Europe's rivers and provide commanding views, making our innovative Viking Longships the most desirable way to see Europe's great waterways.
The Fine Art of Detail
After a lifetime spent living in hotels, our Chairman wanted to ensure every detail of our ships was elegantly functional. So we designed easy-to-read and -open premium bath products; intuitive remote controls; large showers with strong water pressure and clear controls; anti-fog mirrors; and heated floors.
Destination-Focused Dining
Regional cuisine, always available classics and the most
al fresco dining on Europe's waterways.
A Culinary Experience
Our highly trained chefs are passionate about food and committed to providing an enriching culinary experience. With flavors accented from our onboard herb garden and a wide selection of regional wines, you will find that with Viking, dining is part of the journey.
Award-Winning Service
Thoughtful attention from our Swiss-trained, English-speaking staff.
Warm Hospitality
We are dedicated to providing warm hospitality to our guests and ensuring everyone feels at home on board our ships. We have the most loyal staff in the industry, and with over 90% returning year after year, you can expect the same quality service every time.
Our Service Guarantee
We have more than 10,000 staff members worldwide devoted to making your stay on board as memorable as possible. We are so confident we will exceed your expectations that we are the only cruise line to guarantee our award-winning service.
Onboard Cultural Enrichment
Cultural enrichment programs to supplement your onshore experience.
Guest Lectures & Port Talks
Complement your onshore experiences with our onboard lecture program, designed to shed light on your destination's art, architecture, music, geopolitics, natural world and more. Also, gain an overview of your next day's port of call through informative multimedia presentations covering the history and culture of your destination, as well as highlights of must-see landmarks.
Destination Performances
Each Viking itinerary includes one or more Destination Performances representing the most iconic cultural performing art form of the region—whether it be Portuguese fado with its melancholy melodies and poignant lyrics; Viennese opera, a centuries-old storytelling art form; or world-renowned Mariinsky Theatre singers from St. Petersburg.
Craft & Cooking Demonstrations
Local artisans demonstrate time-honored craft traditions of your destinations, such as glassblowing, lace making and wooden shoemaking. Our culinary demonstrations present recipes of regional treats and drinks—Austrian apple strudel, Rüdesheim Coffee and more.
Classical & Regional Musicians
From local ensembles to acclaimed choirs, we invite on board a wide range of talented musicians to perform well-known and lesser-known melodies. We hope you will find yourself transported by their performances and enjoy some of the benefits of classical music—lifting your spirit, soothing your soul and adding to your onboard enrichment.
Destination Insights
Join us for a special series of short films, screening on your stateroom television, intended to inform you about the iconic destinations and little-known gems you will be visiting. This series provides insights and information intended to deepen your understanding—and enjoyment—of the time ahead, and perhaps encourage you to engage with your destinations in a way you otherwise would not have.
Viking Curated Library
Our onboard Library was curated by Heywood Hill, an independent London bookseller and Royal Warrant holder, who dedicated hundreds of hours to understanding the unique, inquisitive nature of our guests. From art to history to destination-focused reading, each book was hand-selected to enhance your experience, both on board and at your destination.
Onshore Experiences
An included excursion in every port, plus The Viking Way® of exploration.
Local Life
Viking provides fascinating insights into Local Life during excursions that reveal the rhythms of daily living in your destination. Visit a Russian home in the quaint town of Uglich. Taste your way through a culinary tour of Budapest. Meet some winsome children at a Viking-sponsored elementary school in China. This is the ideal way to experience a place like a local.
Working World
Witness the inner workings of a historic Kinderdijk windmill. Tour the impressive wine cellars of a Wachau Valley winery. Learn the intricate art of truffle hunting from a local Périgord farmer and his hound. Glimpsing the world at work helps you tap into its passions and see its people anew.
Privileged Access
We have arranged exclusive entry for Viking guests to cultural treasures all around the world. Visit seldom-seen collections with before- and after-hours access to world-class museums; be a special guest at private homes and palaces not open to just anyone; or attend cultural performances of folklore, ballet and opera to get an insider's view during these private tours.


______________________________________________________


Uniworld
Boutique River Cruises
Modern River Cruising for the Active Traveler
One-of-a-kind Design
Each exquisitely appointed Uniworld river cruise ship is a work of art designed to be as unique as our guests and as inspiring as the destinations we visit.

Service is at the heart of everything we do. We treat our guests like family–a philosophy instilled in our company culture as a family-owned business with 100 years in the hospitality industry. It's the driving force behind our guest-centric atmosphere and the reason you leave your cruise feeling like part of the family.
NO REQUEST IS TOO LARGE
At Uniworld, we all live by the credo "No request is too large, no detail is too small." Our goal is to give you the unique and unforgettable experiences you seek, with the personalized, industry-leading service you deserve.
TINY NOTICEABLE TOUCHES
The tiniest details often draw the brightest smiles. Our staff's passion is apparent in their matchless attention to your interests, like remembering your drink order from day one, or venturing off the ship to surprise you with chocolates from a local shop you mentioned in passing.
1 TO 2.3 STAFF-TO-GUEST RATIO
With one of the best staff-to-guest ratios on the river, each guest receives our crew's full attention and unmatched attention to detail.
IN-SUITE BUTLERS
Our butlers are trained to the same standards of excellence required by Buckingham Palace, educated under the tutelage of Zita Langenstein at England's Ivor Spencer Butler School. Each assumes the role of butler 100% of the time, and doesn't moonlight in other roles, enabling him or her to focus fully on making your cruise one to never forget.
CULINARY EXCELLENCE
We treat cooking as an art form, a very delicious art form.
ENJOY AN UNRIVALED TASTE OF YOUR DESTINATIONS
When dining onboard, you'll be treated to world-class cuisine made from fresh ingredients, locally sourced from the destinations you visit.
THE MOST ALL-INCLUSIVE AMENITIES finely tailored to your tastes.
There's all-inclusive, and then there's the unmatched level of inclusive luxurious amenities that only we provide. To ensure truly carefree and effortless travel, we've gone ahead and included it all–so the only thing you have to do is sit back, relax and enjoy your vacation.
UNLIMITED premium spirits and wines

Delicious, FIVE-STAR, farm-to-table cuisine

Your choice of CAREFULLY CURATED EXCURSIONS

ALL GRATUITIES onboard

Onboard FITNESS CENTER and WELLNESS CLASSES with a certified wellness instructor

All scheduled AIRPORT TRANSFERS
BICYCLES and NORDIC WALKING STICKS for onshore use
Shipwide INTERNET and WI-FI access
Onboard ENTERTAINMENT and ENRICHMENT
All our cruises feature several options to get up, get going and stay fit, both onboard and onshore. Our seasoned wellness experts have an average tenure of ten years with Uniworld and continuously hone their craft with annual Ayurveda yoga and other trainings. They are there to lend their expertise to you.
TRAVELING LITE MENU
For those interested in healthier dining options, our Traveling Lite menu features all the flavor of our traditional menu, but with fewer calories. We also offer a variety of vegetarian and vegan options, prepared just for you. If you have a specific meal preference, just ask. Our chefs will be happy to accommodate.
"LET'S GO" EXCURSIONS
Our "Let's Go" onshore program features guided walking, hiking, cycling, kayaking, golfing tours and more. Or, take one of our bicycles or Nordic Walking Sticks and head out on your own adventure. Wherever your journey takes you, there will be many opportunities to get out and go.
Every Uniworld cruise is meticulously crafted to be an experience you won't find anywhere else, filled with moments that are each more breathtaking than the last. We've gone the extra mile to ensure our included and optional excursions immerse you in the authentic culture, sights and cuisine of the places you'll visit.
INCLUDED EXCURSIONS
Nothing onboard is cookie-cutter, so your time onshore shouldn't be either. You'll have several options of included excursions each day, so you can explore exactly how you'd like. The choice is yours:
VILLAGE DAY
Get an in-depth look into the quaint destinations we visit and the local people who bring them to life.

LET'S GO
These active excursions feature walking, hiking, cycling, kayaking and golfing activities.

DO AS THE LOCALS DO
Experience life like a local, from riding the subway to stopping into a café for a local treat.
PRIVATE EXPERIENCES
From visiting a museum without the crowds to an after-hours tour of a famous landmark, these included, once-in-a-lifetime experiences are arranged privately for Uniworld guests.
MASTERPIECE COLLECTION
Tasting cheese with a cheese affineur in Rüdesheim or cruising through the streets of Bordeaux in a retro sidecar–if going above and beyond is what you're after, you'll be sure to enjoy our selection of Masterpiece Collection optional experiences, available for an additional cost.
CURATED SERVICES
Guests looking to treat themselves and their loved ones to a private, extraordinary experience can arrange a Curated Service. These experiences can be booked onboard, are often accompanied with a private car and/or guide, are fully customizable, and provide guests with an opportunity to create an exceptionally special moment just for them.